Harir SaffronTM is a Registered Trademark of ECEP HAN International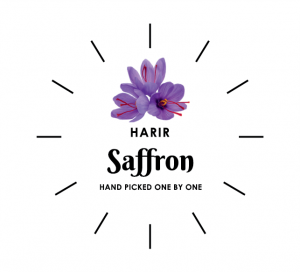 Harir Saffron is Authentic Delighted Pure and 100% organic saffron harvested in the nutritious rich and naturally mineralized soil of Afghanistan. Harir Saffron's color draws visions abruptly, its olfaction aroma gives a pleasant flavor to perception, its natural taste is incomparably wowed, its dark red lengthy threads and texture draws your sight in amazement, its super realistic dye is naturally nourished by Allah Almighty and its consumption is a powerful antioxidant; it may treat depressive symptoms, fight cancer properties in the body, reduce PMS Symptoms; its rich energy nutrition may reduce appetite and aid weight loss, may reduce heart disease risk due to its antioxidant property, may lower your blood sugar levels, may improve your eyesight with AMD (Age-related Macular Degeneration), and protects against free radical damage; may improve memory and cognition on adults with Alzheimer's diseases. 
In ECEP HAN International Trading, in the headquarter located in Istanbul, Turkey and its offices in Herat/Kabul, Afghanistan, Dubai, UAE, Colex, Switzerland, and Arizona, USA, we are committed to uniquely supply food supply chains, cosmetics products, pharmacological products, and Afghanistan's Pushal, Negin, Super Negin (Sargol) saffron under the trademark of Harir; with its international professional worldwide exporter and re-packing facility in our Dubai facility being proudly part of the supply chain. 
We are building Harir Saffron from the customer's feedback whose critics are as  important  as  the  matters  to  our development  value; we  are  obliged  to  our  professional  expertise  that we match your international standards and deliver the quality and quantity promised.
ECEP HAN is big enough to admit its mistakes, smart enough to gain wisely from mistakes happened, and strong enough to correct them in time.